Enjoy your Branson vacation.
Click the map located below to see a full area map of Branson, Missouri. Branson is located in Southwest Missouri off of Highway 65 between Springfield, Missouri and Harrison, Arkansas. Snuggled in the Ozark Mountains, Branson offers guest exceptional weather year round and has some of the most beautiful scenery in the Midwest. Vistors can enjoy many outdoor activities to include biking, hiking, fishing, swimming, outdoor theatre and shopping. Branson has several indoor water parks that are enjoyed by visitors year round.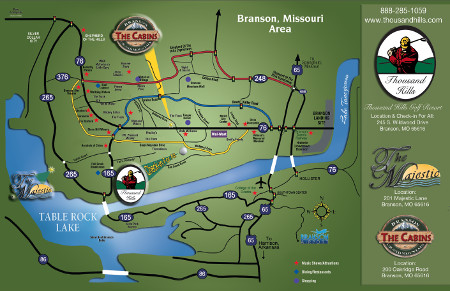 Click the image to view larger and print.
Branson, Missouri has beautiful summers and winters offering you one of the best vacation climates in the Midwest. A normal summer day will have highs in upper 80's, while a normal winter day will have highs in the upper 30's to lower 50's. This makes it possible to enjoy outdoor activities all year such as golf and fishing. Located below you'll find a link to weather.com that provides the current weather conditions for Branson, Missouri.
For more information on purchasing a Majestic at Table Rock condo contact Doug Fast at 1-800-495-4653 or complete the contact us form to receive a real estate packet.